Good evening everyone!
I hope you have had a wonderful Tuesday!
We had another day with mild temperatures.
Tonight will clouds will start to build in as a cold front approaches from the west.
Snow showers will be possible as we go throughout our Wednesday into Thursday morning; however, Helena can expect little to no snow accumulation.
Our winds will be gusting up to 60-70 mph though for some which is why a High Wind Warning has been issued.
Wind gusts up to 40 mph will be possible for Great Falls with only 25 mph wind gusts expected in Helena tomorrow.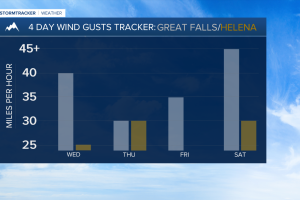 Thanksgiving looks to be dry for us with temperatures ranging from the upper 30s to lower 40s!