Sidney Rae Aimsback of Vaughn, who admitted to pulling a gun on a driver who had given her a ride, and ordering the victim and two others out of the vehicle, was sentenced to 14 years in prison on Tuesday in U.S. District Court, U.S. Attorney Kurt Alme said in a press release.
Senior U.S. District Judge Charles Lovell sentenced Aimsback, 30 years old, to seven years in prison for conviction on carjacking, and seven more years for brandishing a firearm in furtherance of a crime of violence.
Aimsback pleaded guilty to the two crimes in May.
The investigation determined that on November 28, 2017 in Helena, Aimsback approached three people, borrowed a cell phone and asked for a ride to a restaurant near Interstate 15.
The victim drove her Mitsubishi Outlander, while Aimsback sat in the front passenger seat and the victim's two friends sat in the back seat. Aimsback persuaded the victim to drive to a nearby housing development, saying her sister lived there.
While stopped at an intersection near the housing development, Aimsback pulled out a gun from near her waistband, pointed it at the victim and told her and the two other passengers to get out of the vehicle. The victim and passengers complied. The three ran up to a carpenter at a building site.
Law enforcement officers arrested Aimsback near Three Forks. The victim consented to a search of the vehicle, and officers found a 9 mm pistol and two magazines of ammunition.
(NOVEMBER 29, 2017) Sidney Aimsback made her initial appearance in court after she allegedly stole a car at gunpoint in Helena and led police on a chase that reached speeds of more than 100 miles per hour.
According to Lt. Corey Bailey of the Helena Police Department, at about 3:15 p.m. on Tuesday, police officers were dispatched to the area of Alice Street and Runkle Parkway for a report of a person who had just stolen a vehicle at gunpoint.
The person – later identified as Aimsback – then drove away in the vehicle toward Broadwater County.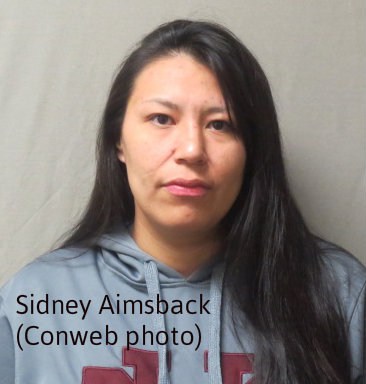 The vehicle was later spotted by Broadwater County Sheriff's deputies and was involved in a chase.
The chase continued through Broadwater County and into Gallatin County with several law enforcement agencies involved.
The woman headed south before coming to a stop and then barricaded herself in the vehicle. Because she was armed, law enforcement negotiated her capture which took approximately 20 minutes.
She is now behind bars at the Gallatin County Detention Center. Bond for Aimsback was set at $100,000.
The Helena Police Department says that in addition to pending charges for Tuesday's incident, Aimsback is also being held on a probation violation, robbery, and theft from the Helena Police Department's jurisdiction.
According to the Montana Department of Corrections, Aimsback has a conviction in Cascade County for robbery.
Gallatin County Sheriff Brian Gootkin addressed the high-speed chase on Tuesday; he noted, "If that person is running from us our initial thought is, that person did something bad or is going to do something bad."
Officers knew that Aimsback was armed, and that was one of the main reasons the agencies decided to give chase, and also why deputies continued the chase through a populated area like Three Forks.