(GREAT FALLS) Joseph Whitshield Elthie has been charged with two counts of assault with a weapon.
The alleged assaults happened on August 18 (details below).
Elthie reportedly ran away from the incident, and on Sunday, September 1st, he was pulled over for a traffic stop. Court documents state that Elthie provided a false name to the officer, but the officer recognized him from a booking photo and "multiple Facebook photos."
When questioned by police, Elthie admitted being at the address (below) during the altercation, and admitted spraying two people in the face with Mace.
Charging documents note that Elthie has "minimal criminal history, mostly with all misdemeanor charges," and was also charged in 2010 for felony criminal endangerment. The court document says that the disposition of that charge was not able to be determined at the time the current charges were filed.
Elthie is charged with two felony counts of assault with a weapon.
(AUGUST 17, 2018) Rostelle Annette Beston and Cody James Screeton have been arrested in connection with a alleged stabbing on Thursday in Great Falls.
Court documents state that police responded at about 5:30 a.m. to a residence on the 1100 block of 26th Street South for a reported stabbing.
Police found two people who claimed to have been assaulted on the 900 block of 3rd Avenue Northwest.
The two people told police that they had been a party early that morning when the man was stabbed twice, and both he and the woman were assaulted with mace or pepper spray.
They both said that they had been sitting on a couch and minding their own business, and had done nothing to provoke the alleged attack.
Court documents note that both had redness in their faces and eyes consistent with being sprayed, and the man had two lacerations, one on his chest and one on his arm. He also had "multiple bumps on his head" consistent with being hit on the head.
They told police that three people had attacked them – two who came in through the front door, and one who came from the kitchen area. They said that the third person was wielding a club of some sort, which he used to hit the male victim "repeatedly from behind."
Police officers soon saw a man leaving the residence. He was identified as Screeton, and his appearance matched the description given by the victims. According to court documents, Screeton admitted that he had been present during the altercation, but appeared to omit many details and provided inconsistent statements. Screeton admitted that he had cleaned up blood and pieces of a coffee pot; court documents note that the "blood and coffee pot were of evidentiary value."
Court documents state that Beston was also found nearby, cleaning the sidewalk outside the residence. Officers noted that the concrete appeared to have blood that had been partially washed away. Beston, when interviewed by officers, admitted that she had cleaned up blood in the kitchen, and said that there had been "a lot of blood" on the kitchen floor.
Police later recovered a wooden club from between the couch cushions, and noted that it had what appeared to be blood on the handle.
Court documents state that Screeton's criminal record includes assault, probation violation, criminal mischief, and tampering with a witness, noting that he "appears to have minimal ties to the state of Montana with a multi-state, violent criminal history."
Court documents state that Beston's criminal record includes endangering the welfare of a child, obstructing a peace officer, and a federal drug conviction.
Screeton and Beston have each been charged with one felony count of tampering with or fabricating physical evidence.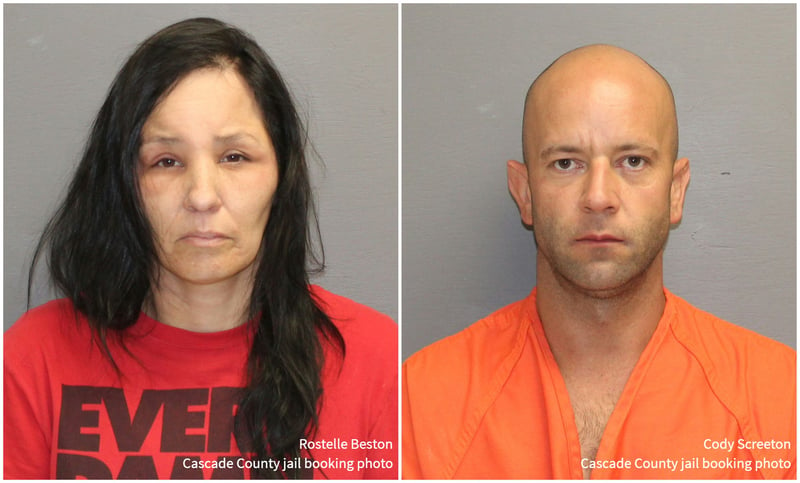 div[data-mml-type="relatedcategory"]{border: thin solid #e7e7e7;} .categories-right-icon{display: none;} .stories-area > hr{margin: 0px;} .stories-area > iframe {border: white;} div[data-mml-type]{ overflow: hidden; } div[data-mml-status="draft"] {display: none !important;} div.fb-post span, div.fb-post span iframe{max-width: 100%;} div[data-mml-type="twitter"].left, div[data-mml-type="instagram"].left, div[data-mml-type="facebook"].left{ float: left; position: relative; overflow:hidden; max-width:100%;}div[data-mml-type="twitter"].right,div[data-mml-type="instagram"].right,div[data-mml-type="facebook"].right{ float: right; position: relative; overflow:hidden; max-width:100%;}div[data-mml-type="twitter"].center,div[data-mml-type="instagram"].center,div[data-mml-type="facebook"].center{ width: 100% !important; overflow:hidden; text-align: center;}div[data-mml-type="twitter"].center iframe,div[data-mml-type="twitter"].center twitterwidget,div[data-mml-type="instagram"].center iframe,div[data-mml-type="facebook"].center iframe{ margin: auto !important;}div[data-mml-type="facebook"].center > span{ margin: auto !important; display: block !important;} .mml-display-none{display: none !important;} div[data-mml-type="gmaps"], div[data-mml-type="youtube"] {position:relative; width:100%; padding-bottom:56.25%;} div[data-mml-type="gmaps"] iframe, div[data-mml-type="youtube"] iframe {position:absolute; left:0; top:0;} div[data-embed-type="clip"],div[data-mml-type="clip"]{position: relative;padding-bottom: 56.25%;width: 100%;box-sizing: border-box;} div[data-embed-type="clip"] iframe { position: absolute;}div[data-embed-type="social"] {position: relative;padding-bottom: 56.25%;width: 100%;box-sizing: border-box;} div[data-embed-type="social"] iframe,div[data-mml-type="clip"] iframe { position: absolute;}.frankly-img{max-width:100%;}.mce-item-table{word-break: break-all;}