(HELENA) The Montana Supreme Court on Wednesday heard arguments in an appeal from Ron Parsons, a Helena man found guilty of misdemeanor charges after he used his truck and boat to stop a high-speed chase.
Parsons' case dates back to May 2016 when law enforcement officers were chasing a man on a motorcycle down Custer Avenue in Helena. When Parsons saw the chase approaching behind him, he pulled his truck and boat trailer across the street, causing the motorcyclist to crash.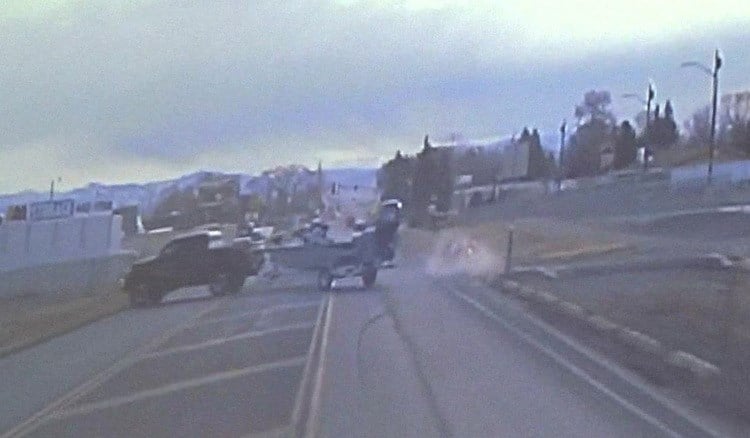 Parsons said he thought what he did was necessary, to protect the officers and the public. But city prosecutors argued his actions created unnecessary risk and charged him with negligent endangerment and reckless driving in Helena Municipal Court. In December 2016, a jury found him guilty on both charges.
Parsons decided to appeal the decision, arguing that he was acting under Montana's citizen's arrest law. His attorney has asked for his conviction to be vacated and for him to receive a new trial.
State law states a private person can use reasonable force to detain someone, "when there is probable cause to believe that the person is committing or has committed an offense and the existing circumstances require the person's immediate arrest."
Municipal court did not allow Parsons to bring up that law during the trial. Lance Jasper, Parsons' attorney, argued Wednesday that meant the jury couldn't make a fair determination of whether his client had acted recklessly or negligently.
"This case from the beginning was clear," he said. "All this case was about was this statute, because of the fact it helped govern the reasonableness of Mr. Parsons' actions."
But Mardell Ployhar, a state assistant attorney general who is assisting the city of Helena, said the citizen's arrest statute wasn't relevant in this case. She argued Parsons was trying to slow the fleeing individual down so police could arrest him, not to make a citizen's arrest himself. She also said, by blocking both lanes of traffic, he created a roadblock, which only law enforcement agencies are allowed to do.
"The citizen's arrest statute gives a citizen under certain circumstances the authority to detain and hold somebody," she said. "It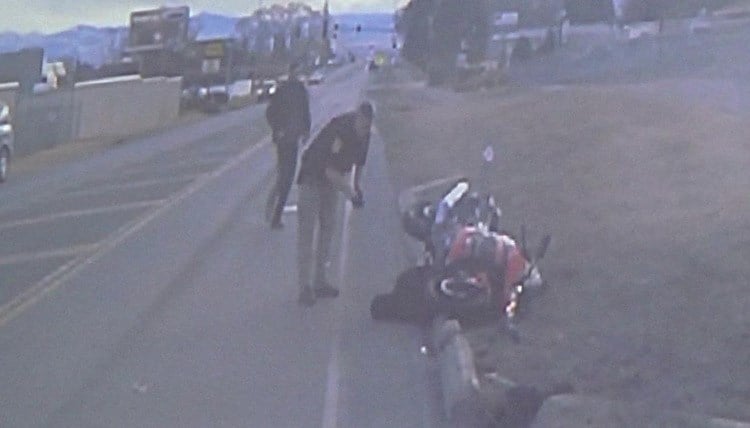 doesn't give them blanket authority to engage in every act that a law enforcement officer may be able to engage in, which would include a roadblock."
Ployhar said Parsons' hadn't been deprived of a chance to properly defend his actions.
"He was allowed to present the defense that he did not negligently endanger or drive recklessly because he was attempting to assist law enforcement, and by doing so he might have prevented greater harm," she said. "The jury ultimately rejected that defense."
But Jasper said it was impossible to know how the jury would have ruled if Parsons had been allowed to justify himself using the citizen's arrest law.
"Without that, simply pulling a roadblock across Custer Avenue may well be negligent endangerment and reckless," he said. "However, if you have the opportunity to view that with 46-6-502 (the citizen's arrest statute), that may well have changed. It doesn't mean it will change, but it certainly is important for the jury to be properly instructed under the law."
Justices will now take the case into consideration. They gave no indication of when a decision could be reached.
div[data-mml-type="relatedcategory"]{border: thin solid #e7e7e7;} .categories-right-icon{display: none;} .stories-area > hr{margin: 0px;} .stories-area > iframe {border: white;} div[data-mml-type]{ overflow: hidden; } div[data-mml-status="draft"] {display: none !important;} div.fb-post span, div.fb-post span iframe{max-width: 100%;} div[data-mml-type="twitter"].left, div[data-mml-type="instagram"].left, div[data-mml-type="facebook"].left{ float: left; position: relative; overflow:hidden; max-width:100%;}div[data-mml-type="twitter"].right,div[data-mml-type="instagram"].right,div[data-mml-type="facebook"].right{ float: right; position: relative; overflow:hidden; max-width:100%;}div[data-mml-type="twitter"].center,div[data-mml-type="instagram"].center,div[data-mml-type="facebook"].center{ width: 100% !important; overflow:hidden; text-align: center;}div[data-mml-type="twitter"].center iframe,div[data-mml-type="twitter"].center twitterwidget,div[data-mml-type="instagram"].center iframe,div[data-mml-type="facebook"].center iframe{ margin: auto !important;}div[data-mml-type="facebook"].center > span{ margin: auto !important; display: block !important;} .mml-display-none{display: none !important;} div[data-mml-type="gmaps"], div[data-mml-type="youtube"] {position:relative; width:100%; padding-bottom:56.25%;} div[data-mml-type="gmaps"] iframe, div[data-mml-type="youtube"] iframe {position:absolute; left:0; top:0;} div[data-embed-type="clip"],div[data-mml-type="clip"]{position: relative;padding-bottom: 56.25%;width: 100%;box-sizing: border-box;} div[data-embed-type="clip"] iframe { position: absolute;}div[data-embed-type="social"] {position: relative;padding-bottom: 56.25%;width: 100%;box-sizing: border-box;} div[data-embed-type="social"] iframe,div[data-mml-type="clip"] iframe { position: absolute;}.frankly-img{max-width:100%;}.mce-item-table{word-break: break-all;}