Deanthony Jarvis Lewis has been charged in Great Falls with a felony count of assault on a peace officer.
Lewis, an inmate at the Cascade County Detention Center, reportedly punched a corrections officer in the jaw, and court documents state that he "continued to fight with officers until a taser was deployed."
The incident happened on Monday as several defendants were changing into "transport jumpsuits" in order to be taken to scheduled court hearings.
Lewis reportedly became upset that a jumpsuit in his size was not available, and began challenging an officer to "come at" him, according to court documents.
---
[youtube https://www.youtube.com/watch?v=uU7eF_U9Gt4?rel=0&showinfo=0]
(DECEMBER 1, 2017) Deanthony Jarvis Lewis and Synova Renee Ervin have been charged in Great Falls after an alleged gunpoint robbery.
Court documents state that police officers responded at about 10:30 p.m. to a reported robbery in the area of 1st Avenue North and 10th Street. Two victims told the officers that they had been at the nearby convenience store getting sodas when they were approached by a man (later identified as Lewis). They said Lewis approached them more than once as they were sitting in a car, and he asked for money. They said his actions were unusual, and thought he may be under the influence of drugs.
They said that Lewis then got into a black Ford vehicle that was parked at the gas pumps, and the vehicle was driven by a person later identified as Ervin.
The two victims then drove away, heading east on 1st Avenue North, and noticed the Ford following them.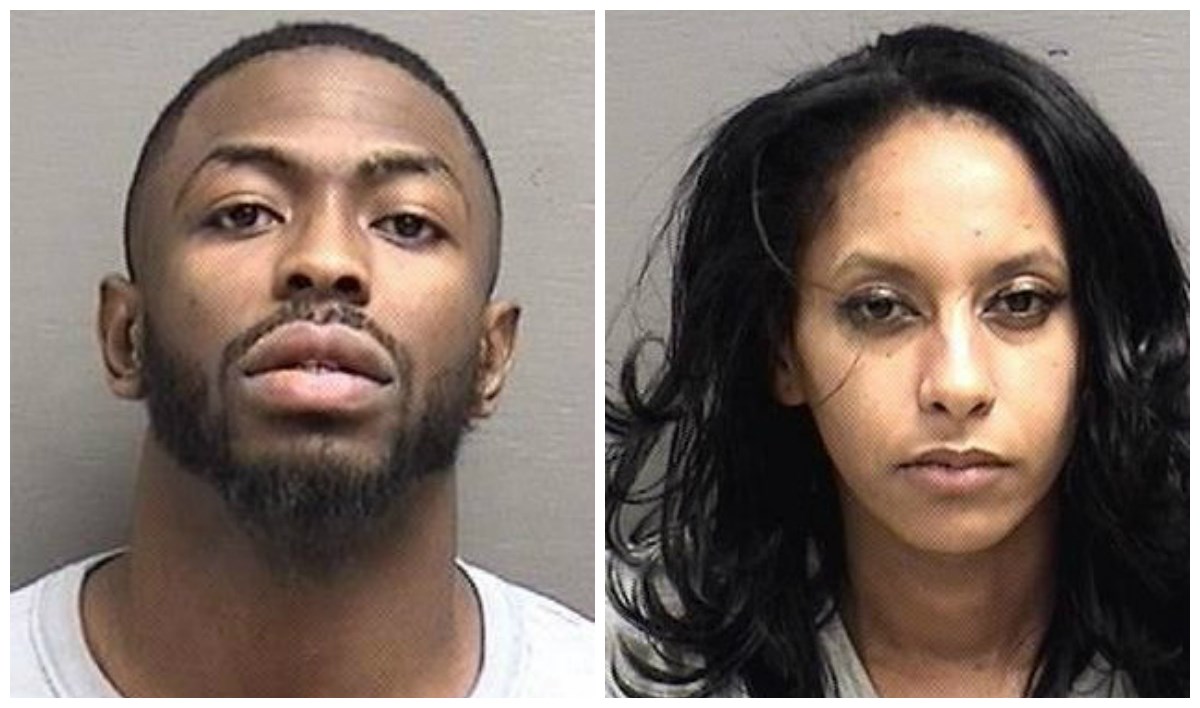 The driver of the Ford then allegedly cut them off, and Lewis got out of the car, and then pointed a gun at one of the victims, demanding money. The victim told police that Lewis reached in the car and grabbed a purse, and took all of the cash (about $500) from the wallet. Lewis then got back into the Ford, which drove away.
The victims got the license plate information and called the police.
A police officer soon saw the Ford in an alley a few blocks away from the incident. As the officer tried to make contact, Lewis jumped out of the car and ran away, but was captured a few blocks away. Ervin remained in the Ford, and was taken into custody. Police found a .45-caliber pistol under the passenger seat of the car.
Lewis is charged with felony robbery, and misdemeanor obstructing a peace officer or other public servant.
According to the Montana Department of Corrections, Lewis has two convictions in Cascade County for assault with a weapon. He also has convictions in Illinois for aggravated assault and criminal defacement of property. Prosecutors requested that bond for Lewis be set at $100,000.
Ervin is charged with felony robbery (accountability).
Court documents state that Ervin has convictions for disorderly conduct, partner/family member assault, and theft. Her bail/bond was revoked in March 2017 for violation of release conditions. Prosecutors requested that her bond be set at $25,000.
div[data-mml-type="relatedcategory"]{border: thin solid #e7e7e7;} .categories-right-icon{display: none;} .stories-area > hr{margin: 0px;} .stories-area > iframe {border: white;} div[data-mml-type]{ overflow: hidden; } div[data-mml-status="draft"] {display: none !important;} div.fb-post span, div.fb-post span iframe{max-width: 100%;} div[data-mml-type="twitter"].left, div[data-mml-type="instagram"].left, div[data-mml-type="facebook"].left{ float: left; position: relative; overflow:hidden; max-width:100%;}div[data-mml-type="twitter"].right,div[data-mml-type="instagram"].right,div[data-mml-type="facebook"].right{ float: right; position: relative; overflow:hidden; max-width:100%;}div[data-mml-type="twitter"].center,div[data-mml-type="instagram"].center,div[data-mml-type="facebook"].center{ width: 100% !important; overflow:hidden; text-align: center;}div[data-mml-type="twitter"].center iframe,div[data-mml-type="twitter"].center twitterwidget,div[data-mml-type="instagram"].center iframe,div[data-mml-type="facebook"].center iframe{ margin: auto !important;}div[data-mml-type="facebook"].center > span{ margin: auto !important; display: block !important;} .mml-display-none{display: none !important;} div[data-mml-type="gmaps"], div[data-mml-type="youtube"] {position:relative; width:100%; padding-bottom:56.25%;} div[data-mml-type="gmaps"] iframe, div[data-mml-type="youtube"] iframe {position:absolute; left:0; top:0;} div[data-embed-type="clip"],div[data-mml-type="clip"]{position: relative;padding-bottom: 56.25%;width: 100%;box-sizing: border-box;} div[data-embed-type="clip"] iframe { position: absolute;}div[data-embed-type="social"] {position: relative;padding-bottom: 56.25%;width: 100%;box-sizing: border-box;} div[data-embed-type="social"] iframe,div[data-mml-type="clip"] iframe { position: absolute;}.frankly-img{max-width:100%;}.mce-item-table{word-break: break-all;}