Virginia Marie Wells has been charged with three felonies and several misdemeanors in Great Falls.
Court documents state that on Wednesday afternoon (March 7th) a police officer was responding to a reported theft at Big Bear Sporting Goods on the Northwest Bypass.
The officer found the suspect vehicle - a white Cadillac - in the parking lot of First Interstate Bank near the intersection of Central Avenue West and 3rd Street NW. As the officer drove toward the Cadillac, the driver of the Cadillac - later identified as Wells - drove directly toward the police car, and nearly crashed into it.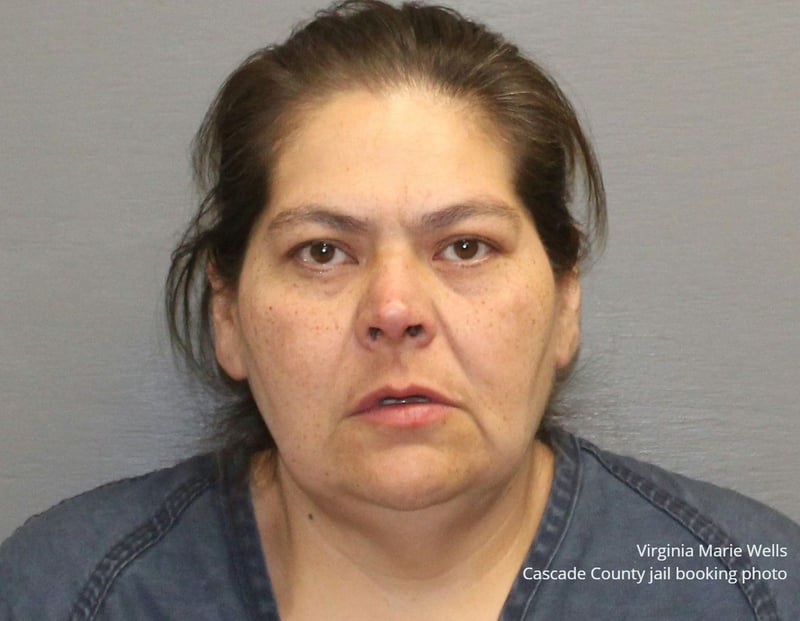 ?
Wells then drove into the residential area near the bank and the officer followed. Court documents state that Wells was driving recklessly and at a high rate of speed.
The police officer, due to safety concerns, shut off the lights and sirens of the patrol car and continued following the Cadillac at a lower speed; the officer lost sight of the Cadillac but continued looking for it, and eventually found the Cadillac in an alley near 11th Street NW and 6th Alley NW.
The court documents state that Wells was "frantically trying to get a two-year old female out of the back seat."
Wells, 45 years old, has been charged with two felony counts of criminal endangerment, felony assault on a peace officer, and the following misdemeanors: fleeing a police officer, reckless driving, and driving with a suspended license.
Court documents state that Wells was out on bond at the time of the arrest, and note that she has a "very lengthy" criminal history including: aggravated assault; assault on a peace officer; unlawful transaction with a child; criminal distribution of dangerous drugs; and probation violations.
Prosecutors requested that bond for Wells be set at $50,000.