A juvenile male in California is responsible for the SnapChat threat to Darby Schools last week, according to Ravalli County Sheriff Steve Holton.
He said in a statement released Tuesday that the 14-year-old suspect does "not pose a viable threat to the community." Ravalli County investigators worked with the Los Angeles Police department on the investigation, where the juvenile is located.
The suspect has connections to 18-year-old Maclean William Kayser, a Darby High School senior who was arrested and charged with two felonies last week for making both verbal and social media threats toward students and Darby schools.
Kayser had referenced the Parkland, Florida, school shooting the week before in his social media post. Holton said the California suspect has no other connections to the Darby community, other than meeting Kayser on an online gaming platform.
The Sheriff's Office is now working with prosecutors and the FBI to determine if they will be able to bring charges against the juvenile, but said be difficult to do so, due to the interstate circumstances of the criminal activity, Holton said.
There are plans for the increase in patrols at Darby schools to continue throughout the rest of the school year.
The name of the California teen has not yet been released.
There have been several threats that disrupted schools across Montana within the last two weeks:
---
(FEBRUARY 20, 2018) Maclean William Kayser, a Darby High School student, made his initial court appearance Tuesday after being accused of making threats on social media to other students.
Ravalli County prosecutors have charged Kayser, 18 years old, with one felony count of intimidation and one felony count of assault with a weapon.
According to court documents, Kayser made statements last week to a group of 8 to 10 students at the school indicating that he was "going to shoot up the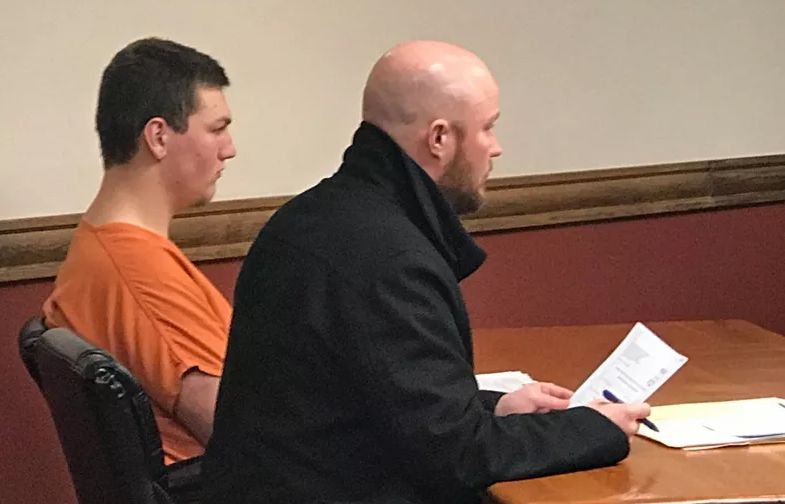 school." He reportedly told other students that they should wear a red shirt or yellow shirt to school the next day, explaining that a yellow shirt meant that the person wearing it would be a target. Other students told officers that Kayser said he would shoot people who wearing yellow shirts, but not students who were wearing red shirts.
On Tuesday, February 13, Kayser posted to his Snapchat account a picture of a pistol with the caption "wear a red shirt tomorrow if you want to live." Kayser reportedly did not show up to school on Wednesday.
Court documents state that on Thursday, February 15, Kayser posted a photo to Snapchat of the deadly school shooting that happened in Florida on Wednesday, and added the caption, "clearly those kids didn't wear red shirts."
After being arrested on Sunday, February 19th, Kayser reportedly told investigating officers that he had been joking, and his actions were meant as a joke.
He also allegedly admitted that on Wednesday, February 14th, he attached a live video feed of the Florida school shooting to his Snapchat account and added the caption, "coming soon to Darby."
The court documents note that Kayser ended the interview with officers by expressing remorse over the trouble his actions had caused, saying "I'm sorry for scaring everybody."
Kayser appeared in Ravalli County Justice Court on Tuesday afternoon.
He is being held on a $50,000 bond and his access to school property and the internet are restricted.