Mental health was front and center Thursday night at half-time of the Rustler and Bison cross-town game.
Students from both CMR High School and Great Falls High School have been promoting mental health through the "Let's Talk" app.
It's part of an effort to reduce the perceived stigma of - and hopefully prevent - suicide.
Students donned lime-green and baby-blue "HOPE" shirts to support their peers.
Young women from both schools shared their message of hope and awareness.
---
(NOVEMBER 30, 2017) Suicide is a widespread problem in Montana. For decades Montana has had one of the highest suicide rates in the country.
There's a movement though happening across the Big Sky to address the issue, provide resources, and change how people think about depression and mental illness. In Cascade County, two teens from Belt are teaming up with Alliance For Youth to put suicide prevention resources into the hands of every Montanan.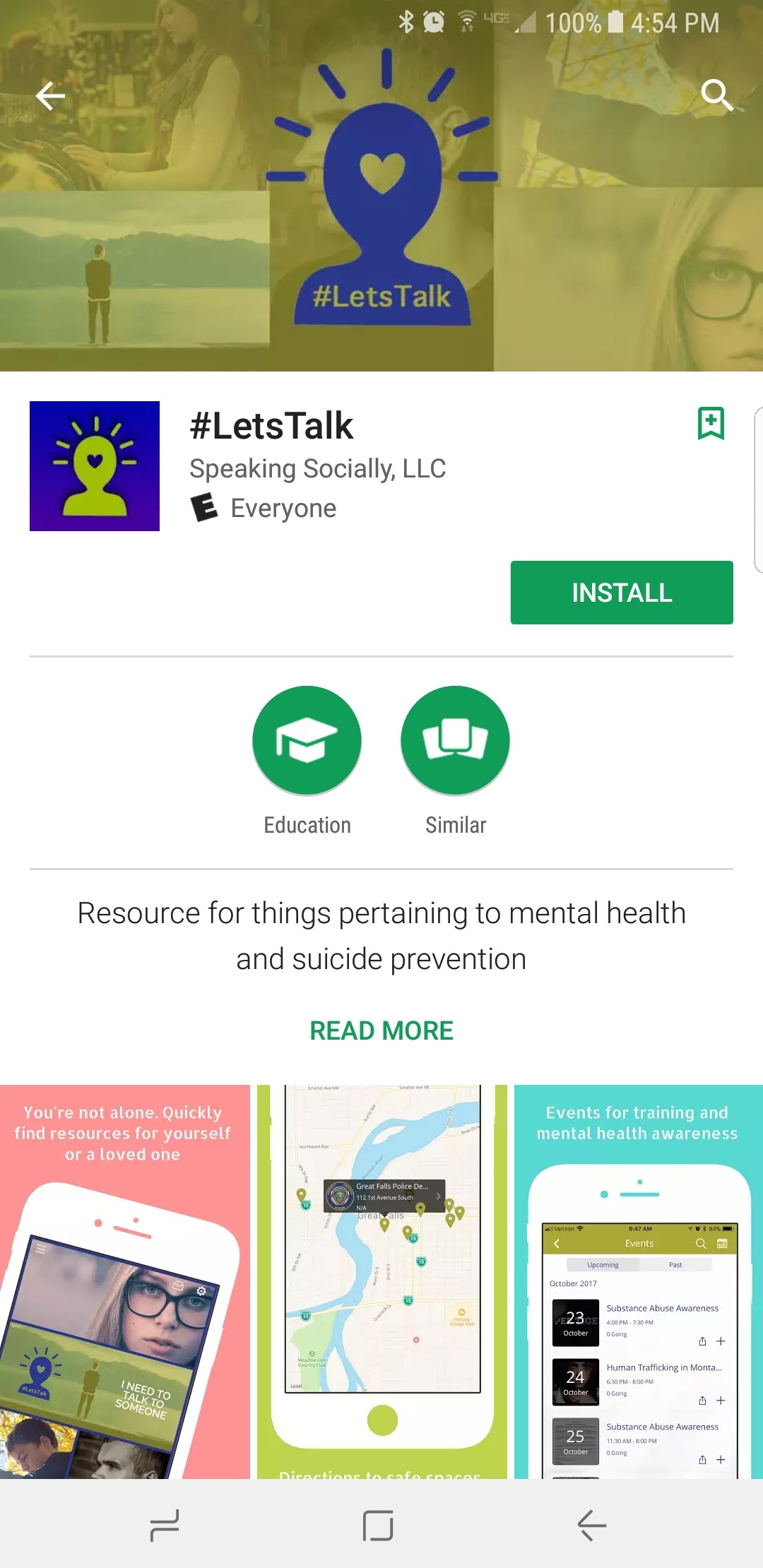 It's difficult to come across someone without a phone in their hand, purse, or pocket. Now, a new app is utilizing that accessibility.
"That was the whole idea behind it, to give resources that were relevant, and then we were able to check them, and make sure they were valid and good information from trusted sources," explained Nicole Zimmerman, the program manager for Alliance For Youth.
The free "#LetsTalk" app is the result of a lot of hard work from a partnership between Alliance For Youth and two DECA students from Belt, who were looking for a way to bring positive change to their community.
Belt sophomore Keely Drummond explained, "Alliance for Youth conducted a survey and found that three out of every 10 high school students in Cascade County had been sad or depressed for multiple days in a week. So three out of 10 is 30%. And there's only 70 some kids in Belt. We calculated it out and that would be 22 kids that are effected by a mental health issue, so we realized there's actually a big part or a lot of kids being overlooked."
Beyond the numbers, they're hoping to cultivate a culture change through the app.
"I think a lot of people don't understand how it (depression and mental illness) effects people," said Belt sophomore Maggie Andrews.
"The stigma behind it (depression and mental illness) makes people believe there's something wrong with them or they're weak, instead of it is ok I have an illness and there are things I can do about it. So we want to change that conversation and make it something that's easily brought up. 'Oh I think I'm depressed today' and someone to tell you to suck it up. 'Oh really, what's that feel like, what can we do?' Really being there for everybody," said Nicole.
The "#Lets Talk" app provides resources, information, and connections from videos about mental disorders, to warning signs, and designated safe spaces to go in Great Falls to talk.
Right now the app is available in Great Falls, but they're hoping to expand its reach to Butte, Kalispell, Browning, and Helena soon.
Nicole explained, "Real simple, easy directions that a lot of people are afraid of, and they're there, so you don't have to be alone if you're helping somebody in a crisis, or if you are in crisis."
Their momentum doesn't stop with the app. For Mental Health Awareness Month in May, they hope to paint the town with "hope." Maggie and Keely also plan to present their project at the state DECA conference, and hope to take it to the national and international DECA competitions.
The #LetsTalk app is available now in the App Store or on Google Play.