Garrett Patrick Grahl of Bozeman is accused of kidnapping and assault after a woman came into a Four Corners store, claiming she had jumped from a moving vehicle after being struck repeatedly by the man.
Grahl, 26 years old, was charged with aggravated kidnapping and partner/family member assault in Gallatin County Justice Court on Monday, February 5.
Grahl's bail was set at $100,000 and he was ordered to have no contact with the victim and remain at least 1,000 feet from her residence.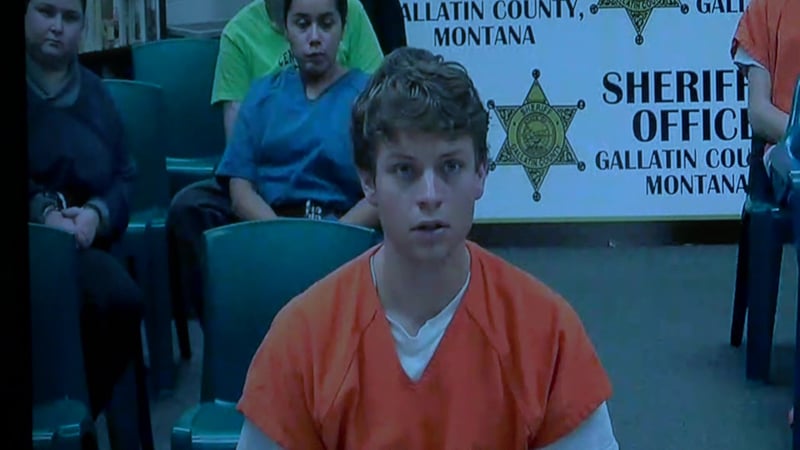 According to charging documents, Gallatin County Sheriff's deputy responded to the call on shortly before 1 a.m on Sunday, February 4, and met the woman who said she had been hit by Grahl.
The woman said she had picked up Grahl after work in Big Sky, but since he had been drinking she drove them back toward Bozeman. She said that Grahl became more and more angry on the trip, then told her to pull over so he could drive. The woman reported that Grahl was driving "crazy, he was driving 100 (MPH), he was driving like a madman". Around the area of the Lava Lake Trailhead, Grahl allegedly began hitting the woman in the face and arms until they reached the Four Corners area.
The woman reportedly told Grahl numerous times to stop and asked him multiple times to stop the vehicle so she could get out. Once they reached the Four Corners area and the vehicle slowed, the woman jumped out of the vehicle as it was still traveling at approximately 45 MPH, then ran to the business where a clerk called 911.
The woman sustained abrasions to her arms and back from hitting the road, and her clothes were torn in several places.
Grahl initially followed the woman into the store but was told to leave. He then reportedly sent the woman texts, including one that read: "If you come home unexpected you will get shot." The woman told law enforcement that Grahl had several firearms in the house.
The victim also told deputies that Grahl had threatened to kill her multiple times, saying he was going to keep her in the car, take her home and kill her.
The woman told deputies there had been a history of abuse with her relationship with Grahl, including one where he reportedly locked her inside the house for 14 hours.
When deputies went to Grahl's residence, he reportedly refused to answer his phone three times and would not respond to law enforcement knocking on doors and windows.
Grahl was eventually taken into custody and booked into the Gallatin County Detention Facility at 10:53 a.m. on Sunday.
Reported by by Ken Spencer and David Dyas