It's been decades since the current Ursuline Centre opened and people of all ages and generations have strolled the halls throughout the years including one tour guide and night watchman, Georges de Giorgio.
"I came here on a holiday and I said, 'Well, that's it, I think I'll stay here,'" de Giorgio said.
But what may be unknown about de Giorgio is that he's walked lands far beyond the Ursuline Centre and Montana.
De Giorgio was born in France while headed to Italy where his father wanted him to be born. He then grew up in Chile and sailed to islands off of the west coast of South America as a kid.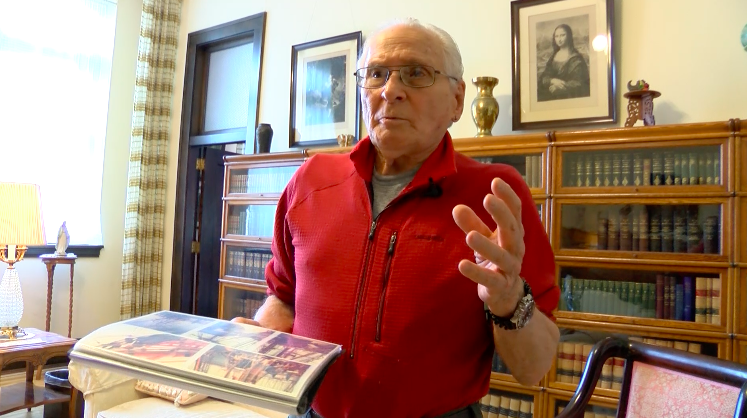 Due to his life at sea, he managed to survive a tsunami. He was pushed upriver in a boat with two other occupants while people aboard ships attempted to go ashore but drowned.
When he was 17, de Giorgio managed to get join an American expedition to Antarctica by claiming he was from the United States.
He ran into some trouble in Antarctica, however, when he raised the Chilean flag on their independence day.
"'We're having problems with the British and the Argentinians occupying these lands, and what's that Chilean flag doing,'" de Giorgio said. "I said 'I'm Chilean.' He said, 'You said you were American.' I said, 'Yeah, Chileans are American. I'm not African or Asian or European."
He also worked jobs he never in his life expected he would get, jobs where he had to be in the right place at the right time to get.
"I was hired by Avery Brundage who was the head of the International Olympic Committee for the Olympics in Mexico," de Giorgio said. "I was the harbor master for the 1968 Olympics."
Aside from being a harbor master, he also did some public relations work for various teams at the Olympics due to being multilinguistic.
After a good life of adventure, de Giorgio made it to the United States and worked in Los Angeles for a time before deciding to take a trip to Montana.
After seeing the Big Sky Country, the laid-back attitude of everyone, and far less traffic, he decided to make his home in Montana.
But as he approaches 90 years of age, he still isn't going to retire.
To learn more about de Giorgio, his trip to Antarctica, and how he attended a pagan feast in Rikitea, which is an island with only 300 inhabitants, click here.