A coroner's jury ruled on Thursday that the death of David Herron was not caused by criminal means.
The coroner's inquest involving the April 2017 death of Herron was heard at the Civic Center in Great Falls.
Bruce McDermott with the Montana Department of Justice's Division of Criminal Investigation says he found evidence that showed Herron was planning to murder Dr. Michael Dube.
In the days leading up to Herron going to Dube's home, Herron had called the doctor's home and Benefis hospital numerous times.
He had also taken his dogs to the Happy Trails Lodge and told an employee that he would not be back but someone would pick them up. People who encountered Herron knew his dogs were his life, and McDermott said this showed him that Herron did not plan on coming back.
"The whole ruse to get Dr. Dube to come to his house for this made-up concept of a present that wasn't coming together. I truly believe that Deputy Chris Araujo, when he pulled in, he saved Dr. Dube and anyone else because that stopped his exit strategy," McDermott said.
---
(APRIL 11, 2017) New details were released on Tuesday about the home invasion and fire at a house just south of Great Falls on Monday.
Cascade County Sheriff Bob Edwards identified the man who killed himself as 67-year-old David Delbert Herron of Cascade.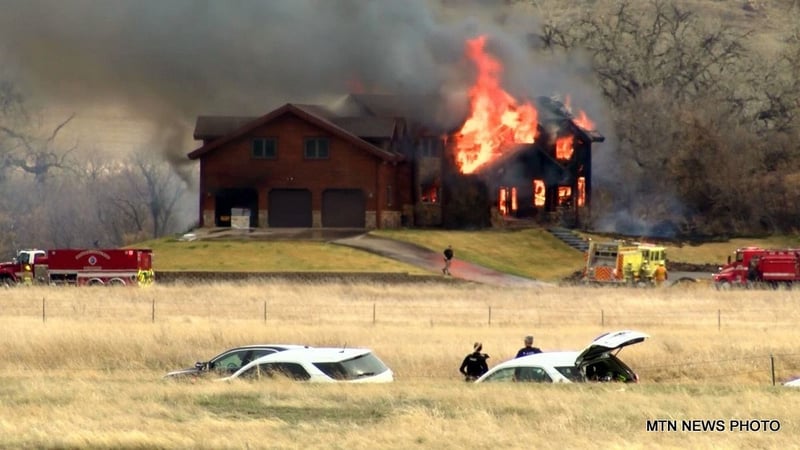 Shortly before 1 p.m. on Monday, authorities say Herron broke into a home on Tumbleweed Lane and assaulted a resident, who was able to escape and call 911.
The home belongs to Dr. Michael Dube and his wife Adrienne.
Dr. Dube shared his family's story with MTN's Shannon Newth Tuesday night, calling his wife a "hero."
"Adrienne really is a hero and she saved my life and probably the lives of our girls," said Dube.
He said his family wants to thank the community: "The support has been absolutely unbelievable." Dube also expressed gratitude for police, fire, and all emergency responders who were on scene and are part of the investigation.
Dube said that Herron was a former patient of his, who he operated on years ago. Herron had sustained a serious back injury while working at the hospital in Chester.
Dube said Herron called his wife Adrienne over the weekend to set up an appointment with her, saying he wanted to show his appreciation to the doctor for his service to him by giving them a piece of furniture his children had made.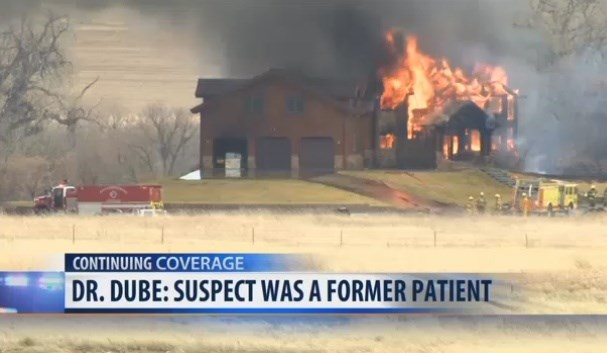 Herron came to the Dube's home on Monday afternoon, where Adrienne made him a cup of coffee and they spoke for a while. Dube says after some time had passed Adrienne asked when the furniture was arriving and Herron showed signs of being anxious.
That's when Herron offered Adrienne a sedative, telling her that "this will make it easier for you." Adrienne asked Herron to leave and he pulled a gun on her and attempted to assault her.
Dube said his wife did everything she should have done - she was able to disarm him, wrestling the gun away and escaping. Adrienne got into her vehicle, which was parked just outside the front of the home. She escaped to a neighbor's house.
At some point, authorities say that Herron likely caused the fire that destroyed the Dube's home.
Sheriff Edwards says one of his deputies was nearby and responded, chasing Herron to a nearby home. Once there, Herron reportedly forced that homeowner to leave. Officers surrounded the home and heard gunshots a short time later.
The Sheriff said Herron died of a self-inflicted wound.
Dube said that Herron seemed intent on causing harm to the family, not just Adrienne.
The Montana Division of Criminal Investigation is in the charge of the investigation.
Responding agencies included the Cascade County Sheriff's Office and the Great Falls Police Department, and the following fire departments: Black Eagle, Gore Hill, Vaughn, Belt, Ulm, Sand Coulee, Great Falls Fire Rescue, Montana Air National Guard, Malmstrom AFB Fire Department; and Sally One (Salvation Army mobile food truck).
We will update you as we get more information.
RELATED: Herron identified as man who killed himself after home invasion and fire