Malik William Arvin has been charged with assault with a weapon after he allegedly threatened a man with a knife.
A probable cause affidavit says that at about 9 p.m. on Saturday, January 20, police officers responded to an apartment building on 2nd Avenue North in downtown Great Falls for a report of an "active disturbance."
The affidavit says that two people had gone to the apartment building to buy a pair of jeans from a woman. A man came out of the building, accepted money from the two, and said that he would return with the jeans. The two people claimed that he never came back out of the building.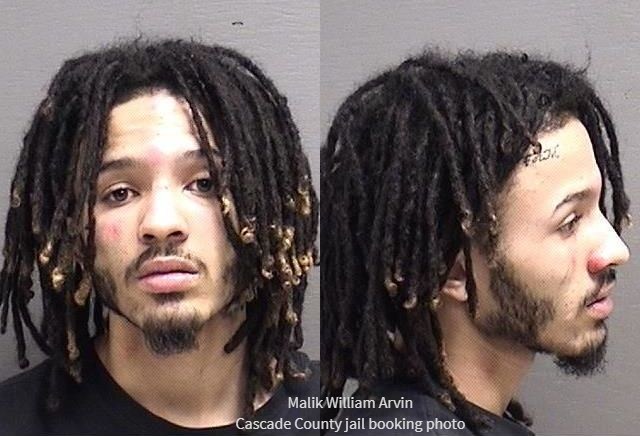 The two people then allegedly began throwing bark/wood chips at the window to get the man's attention so they could get their money back. They told police that the man came back outside with another man, later identified as Arvin.
The two people told police that Arvin and the other man began yelling at them to the effect of "you're not getting your money back."
At that point, according to the two people, Arvin brandished a knife. One of the two alleged victims told police that he "got into a tussle" with Arvin and was trying to protect himself as Arvin was slashing the knife trying to strike him.
The two people eventually broke contact and began running away, and told police that Arvin began chasing them. One of the victims located "other citizens" and asked them to call 911.
One of the victims told police that when he looked back, he saw Arvin hitting his (victim's) vehicle with the knife in an apparent attempt to break the windows.
A person inside the vehicle gave police the same account of the events, stating that Arvin had hit the front passenger window numerous times, and then moved to the rear of the vehicle and struck it.
The affidavit notes that both windows had "very fresh marks" consistent with being struck by a hard or metal object.
One Arvin was detained, police found a folding box-cutter style knife during a pat search.
When he was questioned by police, Arvin reportedly said that the other man had initiated the altercation by swinging at him first. Arvin then denied having a weapon.
The police affidavit states: "Arvin's story seemed to be inconsistent with many gaps."
Arvin, 20 years old, has been charged with assault with a weapon (felony) and criminal mischief (misdemeanor).