On Monday, November 13th, the Blackfeet Tribal Business Council announced that it is offering a $5,000 reward for information which results in the location of Ashley Loring Heavyrunner.
Ashley has been missing since June.
The agency said that the reward will only be paid out upon verification of accuracy of information and confirmation of actual location of Ashley by her family and law enforcement officials. You can call the Blackfeet Homeland Security Tip Line at (406) 450-1922.
---
(OCTOBER 31, 2017) Five months ago, Ashley Loring Heavyrunner was last seen on the Blackfeet Reservation. Since then her family has been out looking for clues in her disappearance.
Kimberly Loring says the last time she saw Ashley was when she came to visit her in Missoula last winter.
"The last time I talked to Ashley was on June 6th. Ashley was asking me when I was going to come back from my trip, I was in Africa at the time," Kimberly said. After Kimberly returned home, she reached out to her 20-year old sister but she never heard back.
According to Kimberly, Ashley was last seen at a Native American Bank in Browning on June 13th.
"The hardest part is just everything. You can't call her, you can't talk to her, and she is always on your mind. I just want her to come home," Kimberly said.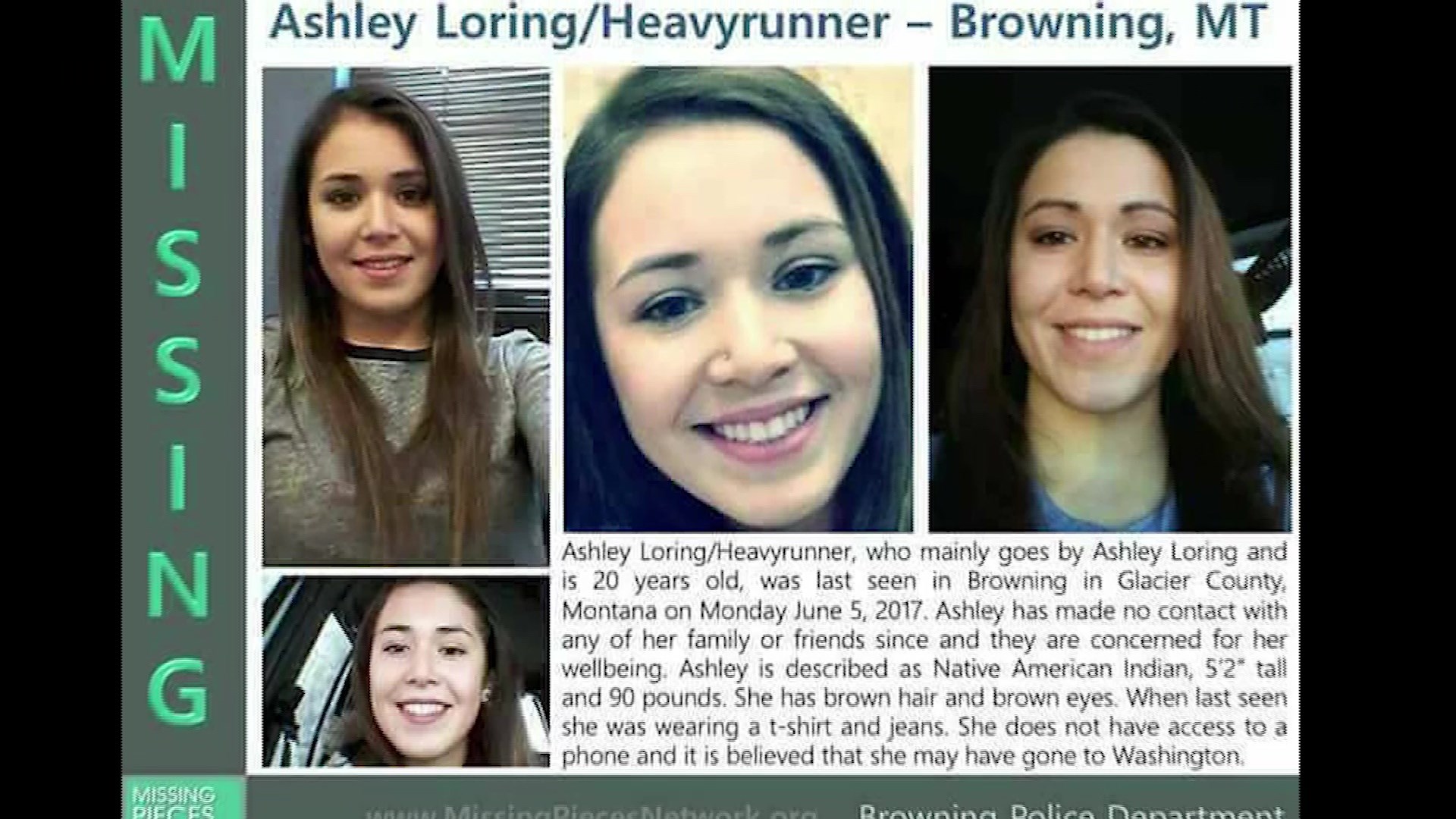 Native Wellness Institute Master Trainer Theda New Breast says Ashley is one of hundreds of missing indigenous woman around the United States.
New Breast says that a database for missing and murdered indigenous woman will help clarify the issue. "It is one of the many steps that will begin to clarify that they matter, that they count, and it would lead to continuing the investigation," she said.
The Native Women's Association of Canada is just one of many organizations in Canada that tracks missing indigenous woman.
"In Canada they have identified eleven hundred indigenous woman by picture and by name," New Breast said.
But in the case of Ashley, Kimberly says she has put her life on hold and moved back home to Browning to help find her baby sister.
"Ashley if you are out there and can see this it is ok to come home. I will not stop looking for you," Kimberly said.
If you have information about where Ashley may be, New Breast has asked people to call the FBI tip line at 1-800-CALLFBI (225-5324).
---
PREVIOUSLY:
---