With hundreds of thousands of acres burned and smoke blurring the horizon for weeks, can something be done to lower the intensity of wildfires?
One answer is called fuel mitigation.
Matt Daw, owner of the Summer Star Ranch north of York, said he didn't sleep for two weeks during the Meriweather Fire that burned near the Gates of the Mountains in 2007 and less than three miles from his ranch.
"We live in the state of Montana," Daw said. "It's not a question of if we're gonna get a fire, it's a question of when."
Daw started looking for ways to protect his property. During a meeting in York after the Meriweather Fire, Daw heard about a fuel mitigation program sponsored by the Natural Resource Conservation Service.
Daw is now in the middle of a four-to-eight year project on his 160 acre ranch.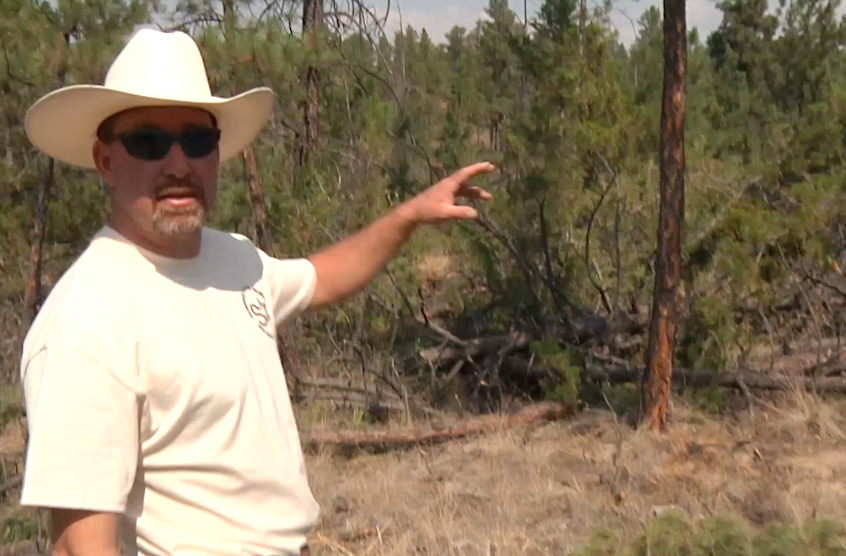 A tour of the property includes a section of land that has yet to be treated. Healthy Ponderosa Pines are surrounded by six-foot-tall juniper bushes and dead and dying trees on the ground.
"This was the mess that, I mean, you can't see more than 25 yards in here," Daw said. "And this was the mess that was left over from when the beetle kill came through here in over the last seven years. And if a fire were to come through here, it'd be all, it'd be gone."
According to the NRCS District Conservationist John George, a solid wall of trees is not a healthy plant community.
George said mitigation projects like Daw's take the place of fire's role on the forest. The goal is to have between 100 to 200 trees per acre, with approximately 16 feet of spacing between each tree.
Working in consultation with the NRCS, Daw is removing dead and dying timber from his property and eliminating ladder fuels like extremely flammable juniper bushes that can turn a grass fire into a crown fire.
"And it really gives it a healthier plant community for the wildlife to be working through," George said.
Daw said the fire will just come through the area if the ladder fuels are trimmed and the junipers gone.
"It's gonna burn the grass, it's gonna burn the needle-cast outta here and it's gonna continue past," he said. "It might scorch the bottom of the tree a little bit, but the odds of it going up that tree and getting into the upper fuels of that tree are very, very slim."
George said the NRCS can work with a landowner to provide technical assistance on what they can do to reduce the fuels on their property. In some cases, the NRCS can also offer cost reimbursement for projects based on a competitive bidding process.
Projects can cost $600 to $1,000 an acre.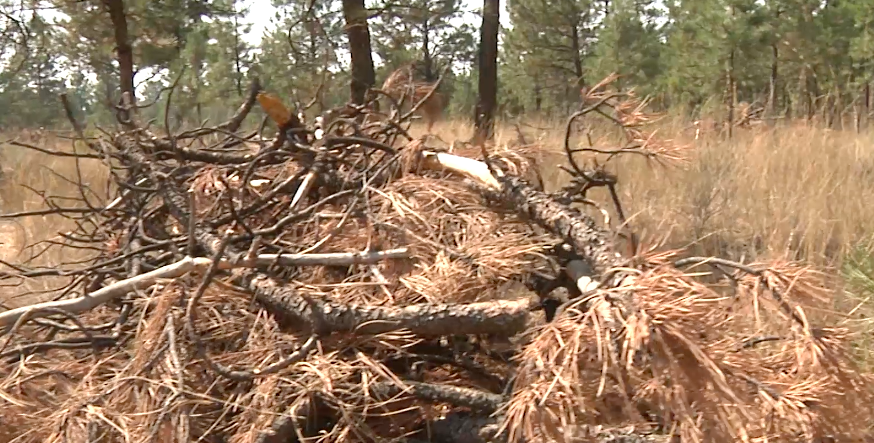 And it's not a cookie cutter approach. George said his office works with landowners on outcomes and goals based on the characteristics of each piece of property.
The difference between a treated and untreated section of land is startling. Instead of a thick and tangled wall of dead and living vegetation, the forest floor is clearly visible between trees.
Some trees taken down on the Summer Star Ranch are sold for firewood. Others are milled into lumber for several guest cabins and "glamping" tents Daw is building. Slash piles from the mitigation work will be burned this winter or early in the spring, weather permitting.
Daw said he can already see the difference on his ranch.
"That right there is good grass for elk to eat off of, cows to eat off of, horses, that right there, if a fire comes through here, it's just gonna burn underneath and it's not gonna get into the trees," he said.
George said once a piece of property is treated, landowners can keep the forest floor clear every five years or so with a bladed weed-eater.
As a volunteer with the York Fire Department, Daw said he feels good about his project.
"I feel very confident that if a fire were to come through here, we would minimize the damages to our property and we wouldn't sustain any structure loss, or anything of that," he said.
For more information on the Natural Resource Conservation Service's mitigation projects, call John George at 449-5000, extension 101.